Second Development Trip
In January/February, 2020 we made a second FIAT development trip to Jerusalem and Bethlehem. The visit reaffirmed our commitment to the Order's ministries in the Holy Land. We visited Hogar Niño Dios and Notre Dame Des Douleurs in Jerusalem and Antonian Charitable Society in Bethlehem. The experience was exciting, rewarding and spiritually uplifting.
Hogar Niño Dios – Bethlehem
Hogar Niño Dios is not just a building but a way of showing God's home on earth to children with no homes and in many ways have "no life". The nuns, priests and volunteers lovingly and unselfishly provide the severely mentally and physically impaired children of God with more then sustenance. They also provide reasons for the children to open their eyes each day to a life of care and love.
The 38 children are all readied for breakfast around 8:00 AM and brought into the large room where "wake up" is official with the morning clap-clap song. No alarm clock needed. Many of the showered children are ready and eager for breakfast, with eyes glowing with excitement and gratefulness that reflect the love of our Lord. After breakfast, the children are taken to a big backyard for time on the swings and where possible, even soccer. Understandably, however, those needing 100% constant care may not want or are unwilling to join. Always having a full day are Mother Superior Roncesvalles, Fr. Marcelo, and Fr. Carlos. All the religious belong to the Incarnate Order.
Joe and Connie Micatrotto joyfully joined in some of the activities. These photos capture in part the children's typical day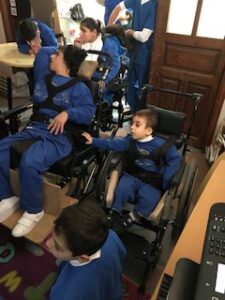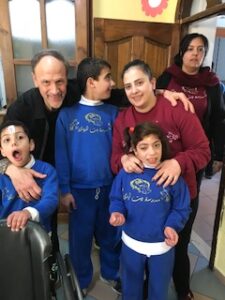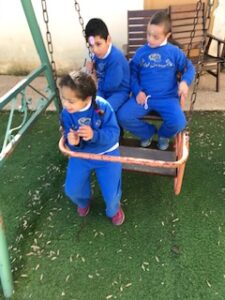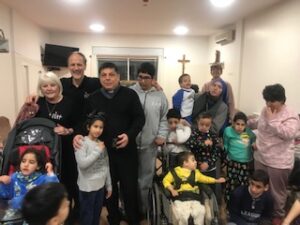 Notre Dame Des Douleurs – Jerusalem
This is a retirement home founded in 1957 by the French congregation of the Daughters of Our Lady of Sorrows. It welcomes and cares for Palestinian seniors in East Jerusalem. It celebrated its 62nd anniversary in 2019. Since its founding, poor and isolated people have been welcomed to be treated and accompanied on the human and spiritual levels and respect of their beliefs. Father Jean-Francois Claus, director of the home, said: "Our mission is to welcome all elderly persons, even if they are destitute. Our aim is to take care of them."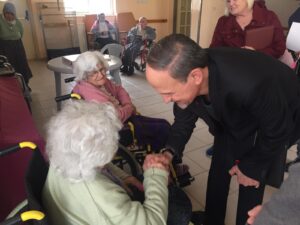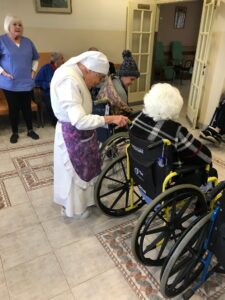 Antonian Charitable Society (ACS)
Bethlehem ACS is a fabulous group of men and women under the guidance of the Franciscan Holy Land community. It provides a welcoming home as well as a social center for residents of Bethlehem and the surrounding areas. The home is operated by full time staff and volunteers, who lovingly care for, feed and interact with elderly men and women who often have no other place to turn to for assistance. During our visit, we witnessed the outpouring of love and compassion everywhere. Nuns cook, clean and generally oversee the full time residents as well as local visitors who socially interact with residents during daytime activities. We assisted in social games and helped the more disabled with companionship and aid in feeding and exercise.